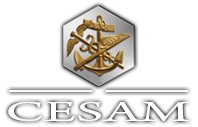 Emeric THIEBAULT has just obtained the certification EEA Plaisance (Expert Evaluator and Insurance) and is recommended by CESAM (Comité d'Etudes et de Services des Assureurs Maritimes et Transports). CMED therefore has a 2nd Maritime Expert – Yachting EEA – recommended by CESAM.
Set up at the instigation of the Federation of Nautical Industries and the insurers of the profession, this official certification constitutes a real control of knowledge and ensures the continuous training of marine surveyors through regular audits.

More and more insurance companies require this certification for surveys.

To learn more about this certification, please visit the site du CNPP