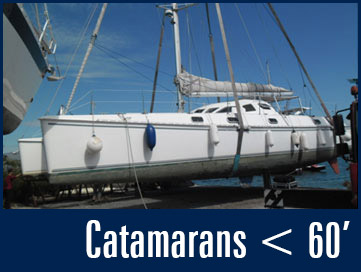 Description Expertise Catamarans Less than 60′
General course of the expertise
Duration: depending on the size of the vessel 6 to 10 hours of examination, 2 days beyond 50′.
Examination of the vessel if possible both afloat and ashore.
Control, according to the size, from 120 to 150 points with, if possible or significant :
Sea trial
Survey ashore at least 1/2 hour
Oil samples for analysis (if the oil has more than 20 hours of operation)
It is preferable for the Applicant to be present throughout the entire duration of the expertise, as this is a privileged moment to get acquainted with the vessel and possibly resolve any problems discovered.
Examens
Immerged parts :
Osmosis control (Sovereign tester)
Bases or lines of shafts, propellers, chairs, hydrolubic rings
Sterns, rudders, fins (or daggerboards)
Through-hulls and strainers
Hull / aileron or daggerboard shaft connections
Hulls and deck :
Hull / nacelle connections
AV-beam connections
Search for cracks and delamination
Deck fittings and equipment
Windlass and anchor
Sails and rigging :
Overall review
Climbing to the top of the mast
visual control of capellings, sheaves, lights and wiring.
Power units :
Tests
Leak detection
Visual and auditory inspection
Search for hot spots with a laser thermometer
Oil samples for analysis
Indoor networks
Vannes
Electric circuits
Fresh water circuit
Gas circuit
Electronics
Comfort equipment
Rapport
About 40 to 60 pages with a conclusion :
Main recommendations
Estimation of market value
Printable edition sent by e-mail (.pdf files) and by post (a CD is sent to your address).
A hardcover, paperback edition can be provided upon request.

If the claimant is absent during the expertise, pre-reporting is possible by video-conference on Skype (1 to 2 hours, about 100 photos with our comments).
General terms and conditions of the expertise
A few days before the expertise, a Mandate of Expertise is sent by e-mail confirming the particular conditions (amount, date, place, time of the appointment …) and all the general conditions for final agreement. The above description is a proposal that can be modified according to the technical and / or safety conditions encountered during the examination and considered as fixed by the applicant.