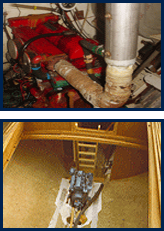 Renovating a boat is always a matter of passion.
Nevertheless, success is essentially based on meticulous site preparation and the perfect coordination of the many people involved.
Our mission is to assist you in the definition of objectives and budgets and then to be your permanent representative throughout the project.
Our fees are paid by the owner (no commission on work), which allows us to be totally objective in our control work.
This service takes place in 6 stages:
1 – Boat expertise
A meticulous survey will determine the actual condition of the vessel and draw up a list of mandatory work and any improvements that can be considered.
2 – Definition of objectives and priorities
One or more meetings (or teleconferences) with the owner make it possible to determine the objectives he wishes to achieve in technical and aesthetic terms.
The various positions are evaluated both financially and in terms of emergency and safety. An order of priority is thus established.
Choices are then made according to the budget allocated to the renovation project.
3 – Preparation of quotations
We draw up the specifications that allow us to obtain clear and unsurprising quotes from different companies.
4 – Choice of speakers and orders
After discussion with the owner, choices are made and orders are placed with the companies.
For this purpose, quotes are not only accepted but also orders are drawn up in good and due form with all the particular conditions.
Intermediate stages are defined with partial payments.
5 – Worksite monitoring
The work is regularly monitored and its proper execution controlled.
A report with photos is sent by e-mail at each important stage.
Intermediate stages are validated and partial payments are triggered.
6 – Acceptance of work
Complete check-up of the work
Tests
Verification of documentation and possible warranty cards
Validation of final settlements
Handing-over of the keys